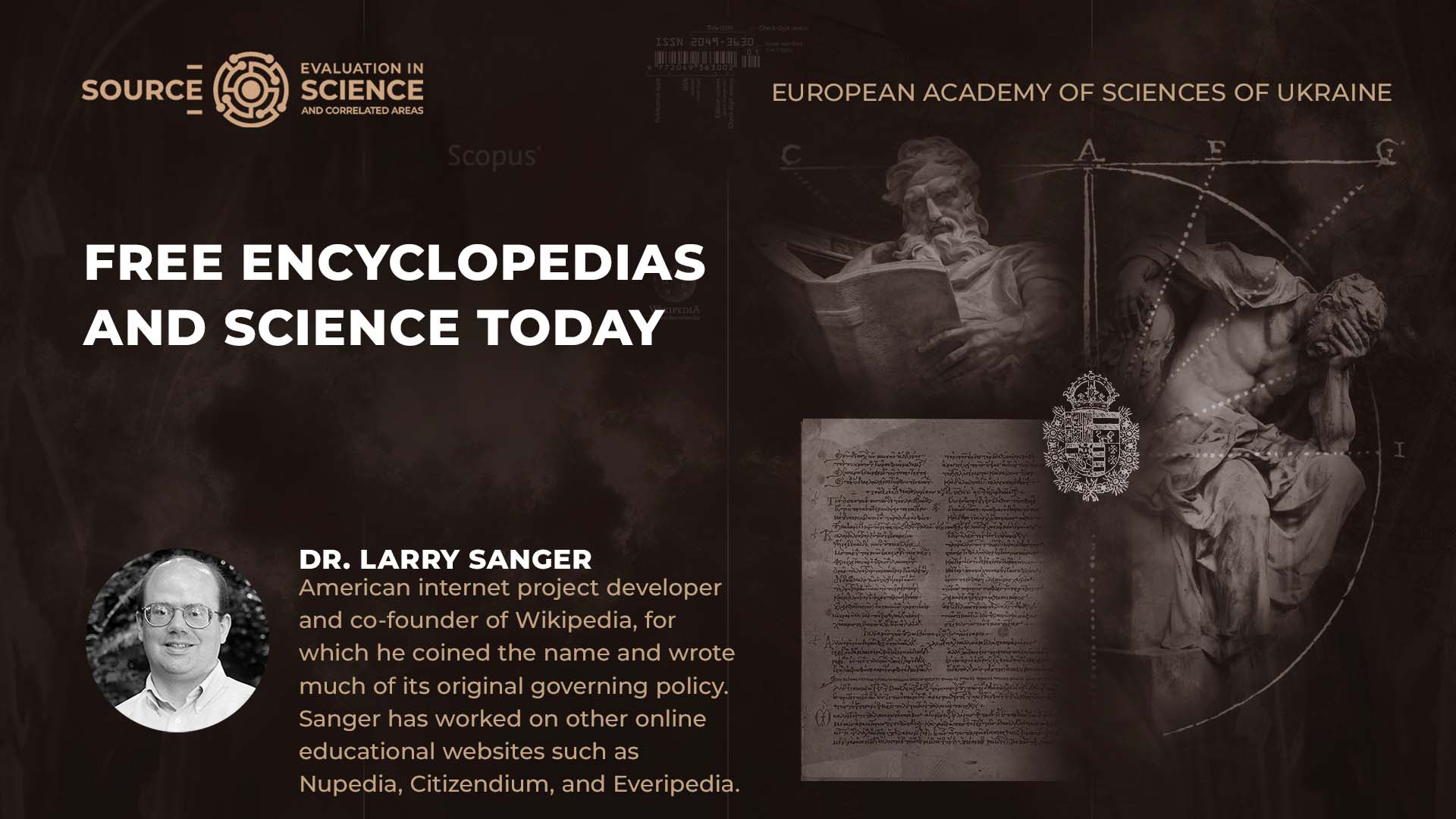 Dr. Larry Sanger
American internet project developer and co-founder of Wikipedia, for which he coined the name and wrote much of its original governing policy. Sanger has worked on other online educational websites such as Nupedia, Citizendium, and Everipedia. Besides the Internet, his interests focus mainly on philosophy—in particular epistemology, early modern philosophy, and ethics.
At the moment I am working on a new organization, the Knowledge Standards Foundation. Although I have been working on the idea for some years, we have just started its implementation. We aim to create a project called the encyclosphere. In the same way that the blogosphere is built on top of the RSS and ATOM protocols, the encyclosphere will adopt a protocol for communicating the information that is already stored in encyclopedias. This will make it possible for people to basically search across all encyclopedias for the most up-to-date versions of articles, and to coordinate with operating systems to quickly search encyclopedia articles on a given subject. Since the world is no longer just limited to Wikipedia, the project that I'm involved in will extend the ability to share knowledge in a structured way, and in the same way as the blogosphere extends the ability to share your opinions with the world. 
Before describing the transformation of Wikipedia, I would like to share a story. I worked on Nupedia, which was the predecessor of Wikipedia, for a year before starting Wikipedia. Nupedia was more of an academic project and most of the early collaborators of Wikipedia for the first six or nine months came from Nupedia. But later on, Wikipedia was sort of taken over, at least in part by people that I described at the time as being "trolls": just bad actors, people who did not have the best interests of a serious knowledge resource at heart. After a little over a year working on Wikipedia, I had to quit because they lost the ability to pay me, because the dot-com boom had busted.  Approximately a year after that I just completely finished with it because basically, Wikipedia had become as I said "overrun with difficult people" who Jimmy Wales refused to control, who really didn't have any role in the project and were driving out the experts. Wikipedia was able to continue on without anyone playing the sort of organizing role that I had for the first 15 months of the project. After five years, Wikipedia began taking over the world, becoming one of the top ten websites in the world and just dominating reference searches. But it was becoming gradually more and more biased, more opinionated about everything.
Some people think that in some way it was taking a scientific viewpoint, that it was becoming actually more reliable, but at the same time there were political and other kinds of biases creeping in. They were simply abandoning the neutral point of view. Around 2015 they had essentially given up the neutral point of view policy in all but name. They still have the policy, but it isn't followed, which is one of their more serious problems. Another major issue is a complete lack of transparency about who has ultimate control of Wikipedia. There is a way to identify individuals who are on the board of directors, but those people and Wikimedia organizations are not the ones who control the content. The content is controlled by administrators, most of whose identities are unknown, they're anonymous. Also, there are hundreds if not thousands of influential editors who aren't administrators, who also are completely anonymous. And that's a problem, because they could be corporate shills, spies, propagandists working for governments or for news organizations that are compromised or for other interests. This is a serious problem. The possibilities for fraud and corruption are extremely high. If there's one thing that we've learned in the last four years it's that knowledge is power. The ability to shape a narrative is what drives world events forward. And Wikipedia has that ability and power, and yet doesn't have to identify the people who are wielding it.

Is Wikipedia a permissible tool for academics to use as a starting point of their research?
It depends on the area of research. One might need to consult with many experts who are thoroughly familiar with Wikipedia in order to have a very good idea of its accuracy in a particular field, especially if it's truly vast. It's hard to make any really reliable generalization with regard to any specific research area. For instance, some people say that 10 and 15-year-old articles about mathematics and computer science and most of the hard sciences are reliable because they're based on relatively objective sources that people don't have many disputes about. There isn't too much opportunity to mess up the basic facts about how a computer operating system works or the chemical properties of some compound. That sort of information can just be copied from professionally curated sources — that might still be the case for all I know. I would say that relying on it, even for those subjects is very dicey. I wouldn't do it. I think in general the advice given to all researchers, of course, is that if it's something that matters you should use multiple sources to confirm it. I think that remains the case. 
What kind of sources do you trust as a scholar?
At the moment, I am writing a book about the philosophy of religion—arguments for the existence of God. This area has two different kinds of sources: the first are classical sources from the history of philosophy, the other are reasonably well agreed upon modern sources. However, when it comes to 21st-century and 20th-century philosophy, then there are multiple competing traditions: there are strictly analytic traditions, Catholic traditions, and then there are "semi-analytic" and "semi-Protestant" traditions. And there are philosophers who conduct work that does not fall into these categories. Their work is legitimate, but they mostly write for seminaries. People that belong to different traditions or groups do not collaborate with each other. It's a complicated question in choosing a source in the given field when there has been so much written about arguments for the existence of God. It is possible to write a respectable work in one tradition that cites only people within that tradition and simply ignores everything else. To put it simply, the first thing to sort out is to understand "what tradition am I working in" and then consult some standard reference works like "A Companion to Epistemology". 
A general look at the state of academia today:
I think there was perhaps a golden age, at least in my experience, kind of a golden age of research. Perhaps many would disagree with me on this, but I think that people were doing it in a better way around the 1960s in philosophy, at least between the 1930s to the 1970s or so. There was a balance between real substance and writing about things that mattered on the one hand in a way that was both perspicacious, very clear and didn't dive into meaningless details.
Things are different today. Academics are basically forced by the economics of how academia works to publish a lot. As a result, the quality of what they publish is just getting worse and worse. It's getting more and more superficial, essentially blog posts or opinion pieces. A lot more activism under the name of research is being tolerated in the humanities and social sciences. Due to the nature of "knowledge" and due to the vast amount of researches that have been done on every aspect of knowledge, we've become so specialized that our ability to handle the big questions of our fields has suffered greatly.
What is the main criteria for a scientist: having many articles published in peer-reviewed journals indexed by scientometrics systems such as Scopus and Web of Science (as has become required by many institutions these days) or written monographs and books that reflect his research results and originality of works? 
That's an insidious modern approach to academic life, teaching, and research. Essentially the economic factors make it unrealistic to expect meaningful research to be done by all college teachers, but that's still the expectation. It used to not be the case, about 50 years ago and before that. There were people who went through their whole teaching careers, having published only one or two substantial papers. And in fact, when I attended college there were some outstanding professors who didn't even have a Ph.D. but had unique and extensive experience. 
It seems that instead of improving the state of affairs in academia for the better, we are going in the opposite direction, especially within the meaning of the research. The usefulness of the research in many fields cannot be defended, it's just a waste of time. People who could have been good educators and teaching students don't have the opportunity because of what is ultimately an unreasonable requirement, that they regularly publish new research. 
Can we say that the authority and popularity of an author guarantee the reliability of his work?
Of course not. First of all, I don't even like to talk about the reliability of people, I prefer to look at the reliability of claims. One might be an expert and be a good representative of the field. But when there's disagreement within the field, the fact that they are authoritative about their own views on the field does not mean that they are necessarily authorities on the truth. Every source of any expert has to be examined individually.
The notion of authority in academia, generally speaking, is an insidious one. It is something that appeals to journalists perhaps because they like to have people to cite, who can be held up as sources in the news that people can trust and rely on. But when it comes to research and finding out the truth it's not about authorities. You have to be your own authority. You have to look at the evidence and have a careful critical eye.
Since you've been working on projects such as Everpedia, Blockchain pedian, Citizendium, and some others, could you please identify the one most applicable for research in your opinion? 
I would say that the Citizendium project has a higher standard of writing and has always been very friendly to academics. Unlike Wikipedia, it has a role for academics in the system. There will always be the same role for academics to work side by side with the general public. Also, there are about 20,000 articles on the basic topics that you would find in any encyclopedia. I would recommend Citizendium for academic purposes if one wants to work in a collaborative way with other people. 
In the future, the encyclosphere project is going to make it possible for people to write for any sort of online encyclopedia, even just add articles to their own blog or on their own academic space, and then contribute them to the Encyclosphere encyclopedia network. The articles will be more easily accessible to the world than they were before and together they will be able to be used in a way that provides an alternative to Wikipedia. People will not be forced to rely on Wikipedia. Let people judge for themselves which is better. The encyclosphere system will have features to help facilitate that, such as a decentralized rating system.